There's people who enjoyed Fraggle Rock : Back To The Rock. Also all the creative / artistic hard work & effort of any production like this ( especially during the times of the pandemic ) is something to admire & appreciate as well as the advancement in puppetry filmmaking.
It's a reboot ( of a show that already had a general closure ) , " updated for modern times ". What does that exactly mean ? 
Is the original problematic ?
We live in an age of streaming services where sometimes the original & reboot / remakes are beside each other ironically. 
It's not mean to point out the facts that there's clearly differences between the two. It's called " artistic critique " ( probably more common among nostalgic fans who are the minority of fandom ).
The original had a strong political pacifism aspect to it as well as Jerry Juhl's humor. Back To The Rock is more gentle & the Fraggles talk in teenager slang ( among other things ).
Was the many changes necessary ? A change in modern times ( modern Democrat / Liberal ideology / Millennial & Generation Z " wokeness " ) or was it simply conforming to current demographic market research so it can " SELL " to modern audiences ( commodification ) or BOTH ?
In general, nostalgic fans prefer the quality of the originals ( & sometimes, other times ) which isn't present in the other stuff.
Even though Dave Goelz & Karen Prell returned as well as an episode written by Jocelyn Stevenson, still,
what would Jim Henson, Jerry Juhl, Richard Hunt & Jerry Nelson think ? Even though Frank Oz wasn't apart of Fraggle Rock, he has been outspoken about the changes of The Muppets ( & Sesame Street ) for 10 years now.
During the original 1989 - 1990 Henson / Disney deal , Jim Henson wanted them to understand the uniqueness of how he ran everything. 
Would Jim, Richard & the two Jerrys be as outspoken about current times today ?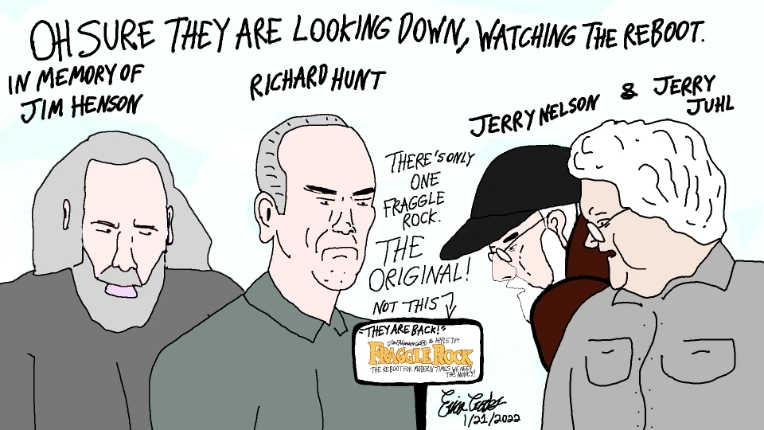 #FraggleRock #FraggleRockBackToTheRock #JimHensonLegacy #JimHenson #JimHensonsMuppets #tributeart #popculture #puppetry #Muppets #art #artists #reboot #reboots #remake #remakes #RichardHunt #JerryNelson #JerryJuhl