Funniest Comedy Animated Cartoons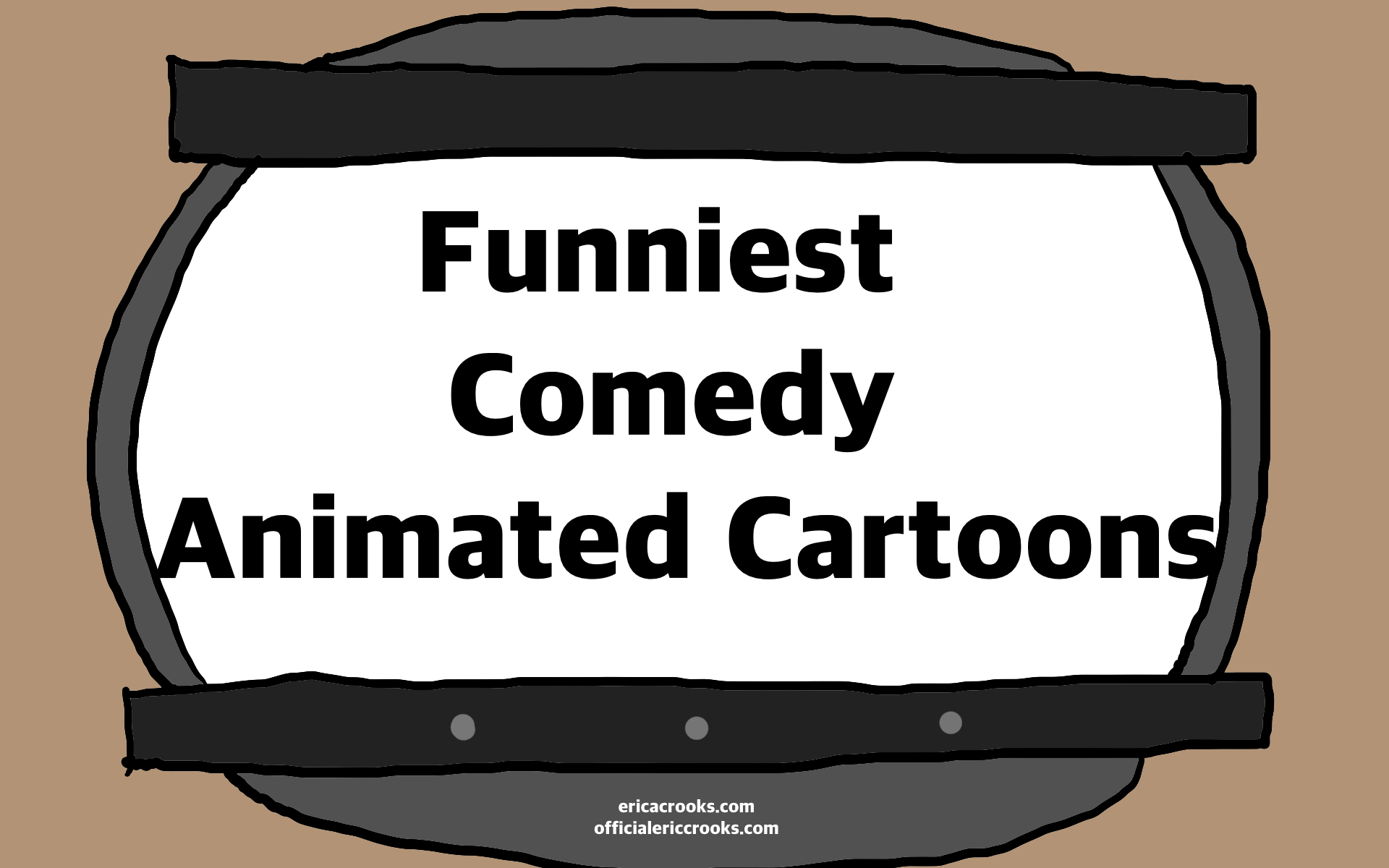 ( For The Funniest Puppet Shows in TV & Film click on the link )
https://www.facebook.com/notes/erica-crooks/funniest-puppet-shows-in-tv-film/1773402342760476/
( I TOTALLY FORGOT TO ADD MYSTERY SCIENCE THEATER TO THE LIST )
So many favorites , so I need to be selective of my top favorites at the time I write this.
In no real order ,
( 1. The Golden Age of Animation : Looney Tunes , Tom & Jerry , Tex Avery , mid late 1940s Woody Woodpecker , Walt Disney , etc
( And even some Rubberhose like Popeye , Betty Boop , etc )
If you go up to any cartoon animation buff , and they can only pick one.
Most likely , they will agree that these oldies are still golden oldies .
From artists on Deviantart , Redbubble , Animatics , to even the somewhat recent video game " Cuphead " , like how a lot of puppet builders and puppeteers favor Jim Henson's Muppets , many cartoonists and animation artists and cans feel the same forum of affection towards The Golden Age of Animation.
But unless you actually sit down and watch them ,
You can see a difference between Disney and Looney Tunes.
But what people don't know is that Walt Disney was very much aware of this so his cartoons in the 1940s and 1950s became more irreverent , violent and edgy in order to keep up with the times.
So yes folks , there are some really good Disney stuff out there.
Today like everything , it's remodeled into this sort of liberal blandness instead of the liberation which made Animated Cartoons at that time that much closer to the political philosophy of Anarchism .
Also there are many websites , mostly outside YouTube which have all your favorites not taken down by copyright owners who don't care. *
For those Looney Tunes fans out there who are also aware that not every single Looney Tunes short had an official DVD release ,
I strongly recommend this website.
http://www.dohtem.com/bugs/news/
( 2. The 1990s / 2000s revival of irreverence
( Classic 1990s Nickelodeon , 2000s Cartoon Network ,
Animaniacs / Tiny Toon Adventures / Pinky & The Brain  , Classic Simpsons , Futurama , Beavis & Butt-head , Invader Zim , etc )
Welcome to my childhood !
And yes as newer generations become old enough to drink , saying that I came from the VHS generation makes me sound SO OLD ! Yeah I'm 31.
https://www.youtube.com/watch?v=iTB2ZMHuoIk
https://www.youtube.com/watch?v=o7nDjnsRGXc
And to let you know , eventually I will be posting more pop culture fandom content as well as content with fellow 1990s pop culture fan / DVD collector and 20 year friendship https://www.youtube.com/user/MetalcoryM/videos
Anyway , the cartoon animation of the 1990s is probably one of my top strongest influences as an artist .
http://www.youtube.com/user/officialericcrooks/videos
I even did a panel at RI Comic Con about it.
https://www.youtube.com/watch?v=hxOQrWq-68A
The 1990s was like a combination of a revival of The Golden Age of Animation as well as the irreverence of Mad Magazine and American Left Wing Politics .
https://www.facebook.com/notes/erica-crooks/uniting-the-american-left-satire-politics-/1762806117153432/
And to just know how huge this was , just look at what a shock the recent passing of Stephen Hillenburg was .
Comic Con and fan art alike are like celebrations of all this , at least I want to keep it that way.
https://www.facebook.com/notes/erica-crooks/idea-for-a-better-comic-con-and-pop-culture-conventions/1682092091891502/
Also my Twin Flame knows what a fan I am of Harley Quinn of Batman The Animated Series. WE BOTH ARE ! :)
I should just do a blog post on all of this alone but it would take way to long so it's best to admire each of them.
Also I was very fortunate enough to meet many people who worked on the shows I loved and a chance to say THANK YOU !
Even if I couldn't afford their autograph at my local comic con. :)
So yeah , I will be doing more pop culture reviews and such in the future relating to this.
But in the meantime , check out Cory's stuff on his channel.
https://www.youtube.com/user/MetalcoryM/videos
( Yes he did suggest the idea for Two Dumb Bikers and appeared in The Erica Crooks Show's 5th episode in Season 1 playing basketball as well as the one filming Dr LeBrick with his phone. ) ( * youtube.com/user/officialericcrooks/videos )
( 3. Classic Simpsons / The Critic / Clerks The Animated Series / Million Hill / Futurama / * I still need to see Disenchanted *
If you think The Simpsons such and Family Guy is funnier , it's probably because you need to check out The Simpsons seasons 4 - 8 * in my opinion were the best * .
The Critic was funnier that Family Guy in my opinion.
Mission Hill was funnier than Family Guy.
Clerks : The Animated Series I liked more than the movies . I'm so happy it's on iTunes now ! THAT WAS A BRILLIANT SHOW ITSELF !
( * Not a fan of the Butch Lesbians sounding like dudes gag in the high school reunion episode but still a great show. * )
Sorry folks , I just can't dig Family Guy.
I'm on South Park's side of the argument .
Why does The Simpsons suck now a days ?
Let me recommend to you one of my favorite websites.
https://deadhomersociety.com/zombiesimpsons/
( 4. The Ren & Stimpy Show , Rocko's Modern Life , Ed Edd N Eddy , Cow & Chicken
I already mentioned the 1990s .
And for the record the only stuff from Klasky Csupo that I really like is AAHHHH ! Real Monsters , the early Simpsons and …. I GOT TO SEE MORE OF DUCKMAN !
Other then that , I hate their shows. Lol Ok , maybe there's some good adult jokes in classic Rugrats before the original writer got sacked and the show went all cutsy and so Nick Jr ish that it makes me want to puke !
Maybe As Told By Ginger was decent….
THAT'S IT ! Sorry !
I hate Wild Thornberries and Rocket Power !
If your a fan of The Ren & Stimpy Show / Spumco Web Cartoons
YOU NEED TO READ AND OWN THIS BOOK !
https://www.amazon.com/Sick-Little-Monkeys-Unauthorized-Stimpy/dp/1593932340
Anyway , The Ren & Stimpy Show is still my 2nd favorite show . In fact I donated to the upcoming Happy Happy Joy Joy documentary and the book " Sick Little Monkeys " is one of my all time favorite books on pop culture.
I got my Ren & Stimpy DVDs signed by Billy West and
Had a fun chat with Bob Camp talking about how John Kricfalusi was an asshole and how I was on the phone with his agent and assistant to despite a feud regarding something I've written on his blog when I was in high school.
John Kricfalusi is a child perv , homophobic , and a misogynistic narcissistic bully that took advantage of his fans when fundraising " Cans Without Labels " which would be the final work of Michael Pataki ( the voice of George Liquor - the banned Ren & Stimpy character . ) , it made the headlines , maybe that means I can satirize the hell out of the guy again without the fear of getting sued .
I remember telling Bob Camp " SO IT'S TRUE ! John K is Ren in real life. "
Bob Camp sees innocence in Ren and compares John K to Trump. Lol
So please , forget all about John Kricfalusi.
Bob Camp is the guy you want as well as Bob Camp
http://bobcampcartoonist.blogspot.com/
BOB DRAWS BETTER THAN JOHN KRICFALUSI !
https://boblabshop.com/collections/all
And as for John Hoek … I mean Mr. Horse … I mean John Kricfalusi ,
Enjoy some Anti-John Kricfalusi SATIRE
http://johnk.wikia.com/wiki/John_Kricfalusi_Wiki
Better quality than his Miley Cyrus Music Video and Adult Swim junk !
http://static3.wikia.nocookie.net/johnk/images/0/03/2011-06-03-They_Were_A_Rip_Off_Of_Silly_Symphonies.jpg
Rocko's Modern Life .
I AM SO EXCITED ABOUT THE BRAND NEW MOVIE THAT'S COMING OUT !
https://www.youtube.com/watch?v=cuF9aZxoipE
I have Joe Murray's book and it's one of my top favorite animation resources which I strongly recommend. I would like to see a Kindle / PDF version.
I need a new copy , mine got wet when I backpack got soaked in the ran.
Inside it's good , it's just that it's a little warped. Lol
Also a great friend of Stephen Hillenburg.
Check out Joe Murray's website
As well as his book !
https://www.amazon.com/Creating-Animated-Cartoons-Character-Developing/dp/B008W3GSJY
Plus like Jim Henson , he's an environmentalist. :)
Ed Edd n Eddy
JUST ENJOY IT !
https://www.youtube.com/watch?v=G6MKIkDm4a0
As well as Danny Autonucci's wild uncensored interview .
https://www.youtube.com/watch?v=_Ns5RPHQigg
And listen to how good my Ed Edd N Eddy impersonations are.
https://www.youtube.com/watch?v=tYyYO8IRxkE
In middle school and high school , I was so hooked onto the show that EVERYBODY HATED ME for doing Ed Edd N Eddy impersonations all the time.
This is why I still remain a virgin at 31 folks . Lol
But seriously , one of my favorites and I'm so influenced by the show. I even have Matt Hill's autograph. :)
I have all the episodes on iTunes .
Next to Ren & Stimpy , Ed Edd N Eddy is my next favorite , then Rocko's Modern Life , Invader Zim , The Angry Beavers , etc.
One more thing.
Yes I have mentioned personality disorders a lot.
https://www.officialericcrooks.com/adults-get-bullied-too.html
Because I was a vicim of abuse form people who had them.
And let me just say that I maybe have generalized it a little bit , because there are good people who did suffer with personality disorders. Borderline.
So I wanted to take this opportunity to mourn over the loss of Ed Edd N Eddy animator https://en.wikipedia.org/wiki/Paul_Boyd_(animator)
And as an Anarchist , this makes me say " All Cops Are Bastards " more so.
https://www.youtube.com/watch?v=207_FGF3wZk ( trigger warning : actual footage )
Yes , unfortunately Cops have murdered a fellow Ed Edd N Eddy artist.
And even people at AKA Cartoon Inc were well aware of Paul Boyd's mental illness , he was still one of their own . :)
Danny Autonucci even had something to say when the news broke out about it.
It's that sense of family and community among fellow artists that I have empathy for.
Jim Henson and his crew were like that as well in the sense of that family / community .
And anarchism shares those same sort of values I believe.
( 5. 2DTV / SuperNews !
I talked about it more on this article https://www.facebook.com/notes/erica-crooks/funniest-puppet-shows-in-tv-film/1773402342760476/
Since it related to Spitting Image.
I would have to say it's probably my favorite Flash animated series .
( 6 . MTV Animation
Relating to the 1990s and Ed Edd N Eddy ( Danny Autonucci and AKA Cartoon Inc animated the opening to Cartoon Sushi ),
MTV Animation was the 1990s animation era which probably isn't as widely remembered as Nickelodeon even though both owned by Viacom .
OK , people know of Beavis & Butt-head , but what about Cartoon Sushi and Liquid Television . Like KaBlam , I'm a huge fan of independent shorts and it's great that there was a Television showcase for them.
When I was a kid , I wanted to have a show kind of like that called " Weirder and Weirder " but it never came about.
I just stuck to doing short films and had them showed by Spike & Mike's Sick & Twisted Festival of Animation at their San Diego panels from 2011 - 2013 which was a real treat for me.
Even " When Aliens Get Bored " was shown at TromaDance in 2016
https://www.youtube.com/watch?v=Ga5pT85A3LM&list=PLJLbzpbdP5rnQ4F0a9BOFEZ0OvvSK_ygK
Cory ( my friend that I mentioned ) is a HUGE fan of the original MTV's Celebrity Deathmatch and it's still my favorite claymation ever ! Robot Chicken being my 2nd favorite stop motion animation. Then afterwords Moral Orel . lol :P
And as for Daria …..
I LOVE JANE LANE !
JANE LANE IS SO … A LESBIAN !
Jane Lane did come out of the closet quietly in " Is It Fall Yet " if you get all the clues and even looking back at Season 1 which Jane Lane talking about fake boobs to Daria.
Yeah Season 1 and a little of season 2 are my favorites.
Then Jane Lane had a voice change , and I F**KING HATE TOM ! THOSE TOM EPISODES WERE THE WORST ! UGH ! DO NOT GET ME STARTED !
And even though there was the recent drawing of the Daria characters showing where they would be know today ,
I don't believe Jane Lane is married to some bloke.
JANE LANE IS A LEBIAN AND PROUD WITH PRIDE !
Even my Twin Flame agrees on one of her tumblrs. :)
Yes , my Twin Flame knows my pop culture crushes !
Watts from Some Kind of Wonderful , Jane Lane of Daria , Lori Petty , Rachel Maddow , Anybodies from West Side Story …
And if my Twin Flame is watching , YES WE ARE SO WATCHING THEM TOGETHER !!!!! <3
Yes folks , I may be born Trans but I am a lesbian ! *
( 7. Dave the Barbarian
This is a show that deserves to have an iTunes and DVD release.
I don't know how I got into this show but the writing is genius !
I love it ! It has a Mel Brooks , Zucker / Abrahams / Zucker , feel to it.
Check it out
https://www.youtube.com/watch?v=BQv16Q0doRY&list=PL3EDBAE4853A8DF0A
( 8 . South Park
One of the only last satires left next to Mad Magazine ( since Les Guignols got canceled this year ) .
However I'm more of a fan of the classic episodes / the first 10 seasons and selected episodes afterwords like " The Ring " ,
Because I feel that the show has lost it's variety of satire a bit and I stopped watching the new episodes as of Season 15 ( which I need to catch up on , I know , I know )
" We used to be cool , but now we're Hollywood doucebags. " _ Trey Parker
Let me just say that I'm a HUGE fan of Trey Parker & Matt Stone , which explains my many years pestering the hell out of Lloyd Kaufman !
Still Troma was nice enough to include my site next to Cinemassacre
http://www.troma.com/links as well as TromaDance 2016
But said no to a distribution deal in 2016 / 2017 .
The only things I haven't seen is Book of Mormon and The New South Park episodes after Season 15 .
The reason why I stopped watching is that's when they were changing format a little bit and every satire was being aimed at the leftists / liberals.
Oh where's the glory days when the South Park kids had the Anarchist flag in the movie , remember that ?
That's US Libertarian for yeah.
https://www.facebook.com/notes/erica-crooks/uniting-the-american-left-satire-politics-/1762806117153432/
I thought the Safe Space satire pointing out that reality isn't nice was unnecessary .
But the show has been around for over 20 years.
Let's just hope that Trey Parker & Matt Stone don't end up like David Zucker who turned republican which is probably why his fans HATE him.
Even though I feel Trey Parker & Matt Stone could do better , they are still legendary satirists in their own right.
Take a look behind the scenes !
https://www.youtube.com/watch?v=-sCriYY4pNg
https://www.youtube.com/watch?v=RIo11liUA0c&t=22s
I have tried to pull the 6 days to do a 30 minute animation show record single handedly and I fall on my face every time. Lol
youtube.com/user/officialericcrooks/videos
I AM SO DROOLING OVER THAT COMPUTER / ANIMATION EQUIPMENT !
NICE UP TO DATE WACOM !!!
It makes me want to do a kickstarter / Patreon thingy so I can get my hands on that stuff. lol
Anyway , I've been a South Park fan since it came out. I used to sneak down stairs when my mother was sleeping so I can watch it.
( 9. Animaniacs / Tiny Toon Adventures / Pinky & The Brain
I HEARD IT'S COMING BACK !
I only seen a little bit of it as a kid. But as an adult , I'm starting to realize just how much I missed out on. I still need the DVDs / iTunes episodes.
And even those there's political opinions I disagree with.
https://www.youtube.com/watch?v=YtdLS6FRf3Q
There's still something about it that cracks me up like the timing and animation.
Still one thing is for sure ,
https://www.youtube.com/watch?v=YpDRl2uD3_c
I'm a John Lennon fan and I think this is hilarious !
I now call Yoko Ono " Yucko No-No ! "
Her singing is still better than the shit that's in music now a days.
https://www.youtube.com/watch?v=HdZ9weP5i68
https://www.youtube.com/watch?v=bfZvHuh7wKM
But I heard she's a total narcissist and won't be surprised if conspiracy theories are true that she was secretly involved in John Lennon's murder.
Still , she own's John Lennon's stuff. And that's what we should remember.
John not YoYO NONO !
FUN FACT : It's fun to annoy my mother with YUCKO NONO
https://www.youtube.com/watch?v=HdZ9weP5i68
https://www.youtube.com/watch?v=bfZvHuh7wKM
But yeah , I won't be surprised if she was really a bitch this whole entire time.
https://www.youtube.com/watch?v=AjfU7onCxoo
I believe that Paul McCarthy died in 1966 !
( 10. MY STUFF
youtube.com/user/officialericcrooks/videos
Check out more from Erica Crooks ( me )
- Hilarious puppet and cartoon dark comedy , parodies , satire , slapstick humor for adults
- Personality Type Science , mostly INFP
LGBTQ+ activism ( Especially Transgender Lesbians )
Empath : Twin Flames , Lightworker , Heyoka , Old Soul , Indigo / Crystal , Starseeds
New Age / New Thought Spirituality From Law of Attraction to 5D Earth
Libertarian Socialist Anarchism ( Cultural / Pacifism )
Pop Culture Reviews / Comic Con / Puppets and Cartoon Animation
AND MORE
FOR MORE
visit The Official Erica Crooks Websites :
Personal Website : ericacrooks.com
Official Website for The Erica Crooks Show : officialericcrooks.com
Also Like , Subscribe , Notification Bell thingy , etc
Facebook: http://facebook.com/officialericcrooks
YouTube : http://youtube.com/user/officialericcrooks
Instagram : http://Instagram.com/officialericcrooks/
Tumblr : https://officialericcrooks.tumblr.com/
Blogger : http://officialericcrooks.blogspot.com/
WordPress: https://officialericcrooks.wordpress.com
Deviant Art : https://www.deviantart.com/officialericcrooks
Giphy : https://giphy.com/channel/ericacrooks
Newgrounds: http://officialericcrooks.newgrounds.com/follow
Dailymotion : http://www.dailymotion.com/user/officialericcrooks/1
Vimeo: https://vimeo.com/officialericcrooks
Newgrounds: http://officialericcrooks.newgrounds.com
Vine: https://vine.co/u/1257143407999610880
Pinterest:  https://www.pinterest.com/officialec1/
Twitter: http://twitter.com/crooks_erica
#cartoon #cartoons #animation #animation #cartoonanimated #animatedcartoons #cartoonanimation #funnycartoon #funnycartoons #popculture #1990s #television #tv #popculture #comiccon #ericacrooks #funniestcartoon #funniest #comedy #funniestanimatedcartoons #animatedcartoon #adultcartoon #adultcartoons #90s #1990scartoon #1990scartoons #nickelodeon #cartoonnetwork #ededdneddy #renandstimpy #rockosmodernlife #Millennials