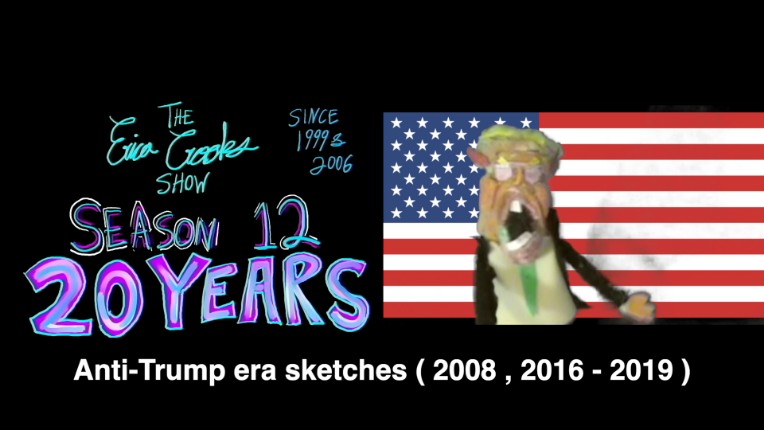 Rude Anti-Trump cartoons and funny rude anti-trump puppet videos , too funny for mainstream . Presenting the worst of President Donald J Trump ( Your Lord and Master of The Universe ) . Hilarious satire and slapstick comedy sketches featuring the adult puppetry and cartoon animation of independent Transgender Lesbian filmmaker " Erica Crooks " .
Not only will this remind you how right you are in terms of how President Chump I mean President Trump is the worst president ever but also just how this crappy political system globally just does not work at all. What kind of people would allow a psychopath to tell the masses what to do ? The Greedy Psychopathic Ruling Class Capitalist Evil Devil Worshipping Bourgeoisie Cartel Elite of course ! So come join in on the Anti-Trump comedy fun as we look on the first presidential term of currently not only the worst president ever but perhaps the worlds most famous narcissistic greedy bullying bastard and sociopathic lunatic ever ! See Trump in puppet form , see Trump in cartoon form , see a bunch of MAGA hat Trump supporters get really pissed off at anything that's left leaning , anti-trump and actually cares about humanity.
And for more anti-trump humor and even adult puppet and cartoon comedy , check out the Official Erica Crooks websites on
ericacrooks.com and officialericcrooks.com
Celebrating 20 years and 12 Seasons of The Erica Crooks Show - The puppet and cartoon animated comedy show for adults !
Watch an hour of Anti-Trump cartoons and puppetry right here !
https://www.youtube.com/watch?v=nHxCjyoaqgM
Spread the word , Anti-Trump humor that's wilder than the usual tame Anti-Trump humor .
#trumppuppet #puppettrump #impeachtrump #dumptrump #impeachtrumpnow #notmypresident #antitrumphumor #trumpcartoon #trumpcartoons #trump #antitrump #trumpcomedy #trumpfunny #puppettrump #cartoontrump #politicalcomedy #politicalhumor #independenceday #independenceday2019 #president #unitedstates #unitedstatesofamerica #cartoon #cartoons #politicalcartoon #politicalcartoons #satire #politicalsatire #puppetry #puppets #puppetshow