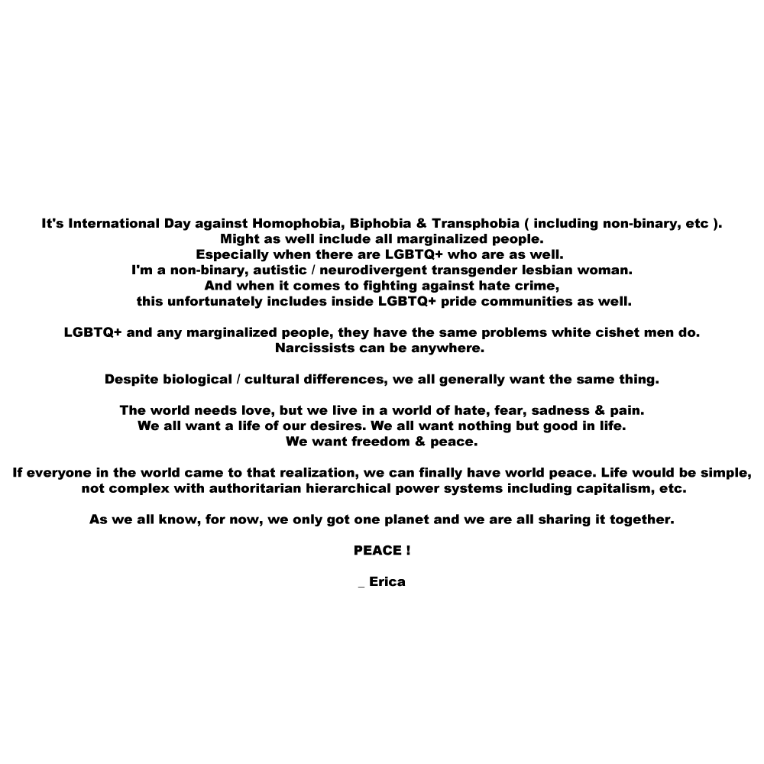 It's International Day against Homophobia, Biphobia & Transphobia ( including non-binary, etc ). Might as well include all marginalized people. Especially when there are LGBTQ+ who are as well. I'm a non-binary, autistic / neurodivergent transgender lesbian woman.
And when it comes to fighting against hate crime, this unfortunately includes inside LGBTQ+ pride communities as well.
LGBTQ+ and any marginalized people, they have the same problems white cishet men do.
Narcissists can be anywhere. 
Despite biological / cultural differences, we all generally want the same thing.
The world needs love, but we live in a world of hate, fear, sadness & pain.
We all want a life of our desires. We all want nothing but good in life.
We want freedom & peace.
If everyone in the world came to that realization, we can finally have world peace. Life would be simple, not complex with authoritarian hierarchical power systems including capitalism, etc.
As we all know, for now, we only got one planet and we are all sharing it together.
PEACE !
_ Erica
☮️🌎❤️